I am very very excited about this post today because I get to share a company with you all that is absolutely awesome! I don't know that I have been this excited over a review and giveaway in well….EVER!!! I don't know if many of you know this but I love to craft and I am constantly dabbling in something here or there but recently I was introduced to
Sublime Stitching
and their amazingly adorable embroidery kits. I can remember when I was younger my grandmother and I doing embroidery together and it has literally been years since I even picked up and embroidery needle but as soon as I seen the designs and kits at Sublime Stitching I immediately got the itch to do some embroidering and I was beyond thrilled when they agreed to let me do a review and giveaway!
About Sublime Stitching (taken from
website
):
Sublime Stitching was founded independently in Austin, Texas in 2001 by Jenny Hart, due to an overabundance of bunny-n-duckie patterns and outdated, overly-difficult instructions for embroidery. After first trying embroidery in the summer of 2000, Hart was unable to find any alternative patterns for stitching ("alternative" meaning: anything other than cutesy teddy bears, duckies, bunnies and scarecrows). Instead of waiting for the craft industry to do something new, she did it herself. Jenny decided to create the company she wished existed: introducing her own designs in non-traditional themes, with new education and new anything for embroidery.
Sublime Stitching introduced edgy embroidery design, all-in-one embroidery starter kits and entertaining, now-I-understand-it instructions to bring embroidery back to life for a new generation of needleworkers. Hart's pioneering take on an ages-old handcraft was met with worldwide press, and hordes of loyal crafters, thankful for finally having the first alternative to geese in bonnets. (Things got a little crazy after that.)
Hart's vision for updated embroidery has grown from her first line of four design sheets to over fifty themes, including the collaborative Artist Series, and a complete product line that includes quality tools and textiles for embroidery. Through Sublime Stitching, Jenny has taught embroidery to thousands with her uniquely clear instructions, books, workshops and appearances. The tremendous success of Hart's signature embroidery style led to a series of titles of the same name with Chronicle Books.
Even though Sublime Stitching is based deep in the heart of Texas, it's a tiny, independent company right here in Austin. Its success has been firmly rooted in public support, and the reach has been worldwide. That's why Sublime Stitching endeavors to maintain fair-trade relationships both locally and internationally and to collaborate with communities of other independent crafters, artists and locally-owned businesses whenever possible. All for embroidery and embroidery for all!
My Thoughts:
I was sent one of Sublime Stitching's
Ultimate Embroidery Kits
that I was able to customize for myself and let me tell you I was like a kid in a candy store! But, before I go into that let me tell you what the Ultimate Embroidery Kit includes:
Comes Crammed With:
- 5" Plastic Embroidery Hoop
- 4 Embroidery Needles w/ Magnet
- PINK all-metal embroidery scissors
- Complete Embroidery How-To and Stitch Diagrams by Jenny Hart ♥
AND YOU PICK:
- Your choice of one Pack of Patterns from 50+ themes
- Your choice of Embroidery Floss in 7 colors
- Your choice of one Textile
And I gotta say all this for only $30 that's an insane deal!!!! I could not wait to choose my poison if you will so after trying to decide what pattern, embroidery floss and what textile I wanted I finally decided on the Forest Friends Transfers, Primary Floss Combo and the Most Awesome Tea Towel as the textile.
I can tell you I was so excited that it seemed to take years for me to get my kit but in reality it was just a couple of days. I was a bit nervous when my kit arrived because it had been so long since I picked up an embroidery needle but thanks to the wonderful Embroidery How-To and Stitch Diagrams by Jenny Hart that came with the kit I was off on my adventure in no time. I must say though that embroidery is much easier than I remember from when I was younger or maybe it was just Jenny's wonderful and to the point directions that are super easy to follow.
I know I got the most awesome tea towel in my kit to embroider but after having a couple of test runs on the tea towel I got brave and picked up some new dish towels from our local Dollar Tree and this is what I ended up with after I put the adorable Forest Friends transfers: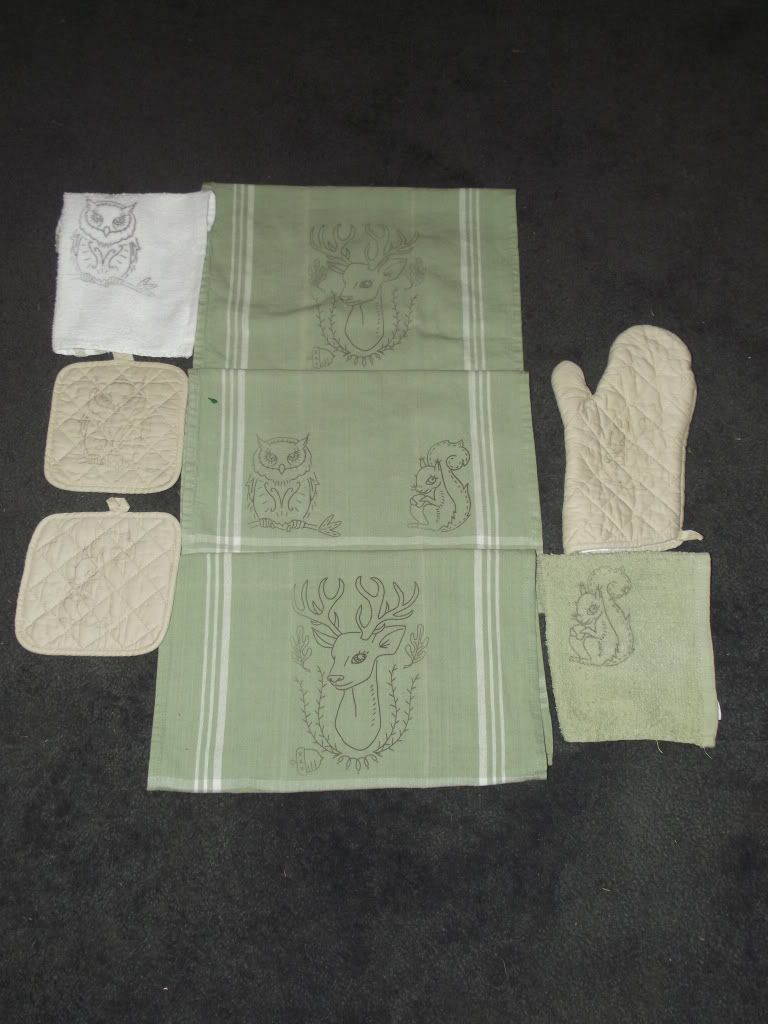 The transfers are extremely easy to apply and all you need is a bit of knowledge about how to use an iron and your on your way. All the pieces you see above took me less than 20 min to apply to the items and most of that time was waiting for my ancient iron to heat up enough. I don't know about you but I just love these little forest friends in this kit….the Deer is my favorite but the owl and squirrel is adorable as well but I can't leave out the cute little porcupine J! Just to let you know what I chose this kit, I did so because we have been remodeling our home and our kitchen is fixing to get Barn Wood cabinets and our counter tops are made from rusted tin so all of our décor is woodland friends such as deer, bear, moose and well cabin décor and I have been unable to find the decorative dishtowels so I decided to make my own.
I've only had time to finish one of the pieces but I can tell you I am already in love…..just have a look at how amazing this little guy turned out:
Isn't is just lovely! It's perfect in everyway and I'm so proud that I embroidered myself and it looks just like if I would have bought it!! I have already had so many friends and family members compliment the pattern and my work that it is unreal! I've also had a couple of my good friends wanting me to make them each a set of decorative dish towels and kitchen mitts, but like I told them they can do it themselves with the help of Sublime Stitching and I am very confident that with the Ultimate Embroidery Kit and Jenny's awesome instructions theirs will turn out just as awesome as mine!
Bottom Line:
I could not be happier with the results from the Ultimate Embroidery Kit from Sublime Stitching and I can't wait to get the rest of the set finished but I was just so excited that I had to share this incredible company with all you crafters out there and no matter what level you are at…you can do your own awesome embroidered pieces. I have my eye on a couple more pattern transfers from Sublime Stitching for some Christmas gifts for some of my family members and I can't wait to get started on those pieces as well.
Not only does Sublime Stitching offer adorable transfers but they have every theme you can imagine so I'm pretty confident you are going to find the perfect transfers for your kit. Also, their prices are awesome as well because let me tell you after doing this review I've looked at other transfers and kits from other places and you are going to get a heck of a deal at Sublime Stitching and their products are high quality!
If you are looking at trying your hand at embroidery or maybe you're a seasoned vet at it, I highly suggest checking out the transfers and kits at Sublime Stitching because you won't be disappointed!
Buy It:
To purchase Ultimate Embroidery Kit mentioned above and so much more visit the
Sublime Stitching website
!
Win It:
Sublime Stitching has very generously offered one of my fabulous readers one of their
La Petite Embroidery Kits
(ARV $20.00) so you can try your hand at embroidery! The La Petite Embroidery Kit includes:
* 4" Wood Embroidery Hoop
* 1 Embroidery Needle SILVER Embroidery Scissors (may vary from shown)
* Complete Embroidery How-To Embroidery
* Floss in 4 colors
* Your choice of 1 Pack of Patterns from 50+ themes!
Mandatory Entry:
Visit
Sublime Stitching
and tell me what
pattern
from the 50+ themes you would choose if you won! Please remember to leave your e-mail address if it's not visible in your profile.
Want or need extra entries? Check out how to grab em' below!
(Mandatory Entry must be complete for these to count)
1. Become a public follower of my blog (2 extra)
2. Follow me on twitter
@sgrant2005
and tweet this giveaway (can be done daily)
3. Subscribe to my feed via a reader
4. Blog about this giveaway with a link to this post and to
Sublime Stitching
be sure to leave me a link (5 extra)
5. Follow Sublime Stitching on
Twitter
6. "Like" Sublime Stitching on
Facebook
Giveaway ends July 03, 2011 @ midnight CST.
Winner will be chosen at random, using random.org and contacted by e-mail and has 48 hrs to respond before a new winner is chosen.
This review is based strictly my opinion. Others may have a different opinion with the product listed above. I did receive the Ultimate Embroidery Kit mentioned above complementary for this review. No monetary compensation was received.